7 Best Water Bottle Cages of 2018 To 2022 – Best Collections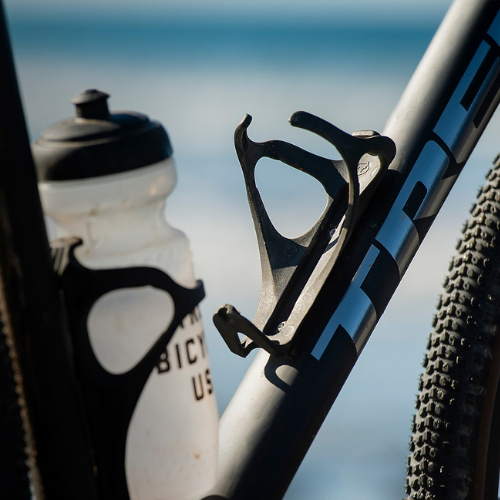 Let's face it, serious bikers will get thirsty, and when they get thirsty, they will be needing a water bottle. And when they will be needing a water bottle, they will be needing something to carry that bottle in. That's where water bottle cages come in. Although the primary function of the best water bottle cages is simple – to carry your bottle securely and to allow easy access to the fluid inside the bottle, we often find ourselves spoilt for choice. Nowadays there are so many variants of the bottle cage to choose from, stylish, functional, lightweight, it gets hard to decide which one is right for you.
This page is dedicated to free you from confusion and guide you in making your choice. First and foremost, you need to decide what it is that you are looking for in your bottle mounting cage. This will vary depending on your need. Following are some of the things that you may need to consider.
7 Best Water Bottle Cages
Once you've taken all aspects into consideration and decided on what your priorities are, it's time to select which Bottle Cage is the one for you. Here are some of my favorite picks.
1. UShake Water Bottle Cage
These cages are made from heat-treated aluminum alloy to ensure durability and strength. Even though cages made from alloy material are notorious for being on the heavier side, this one is comparatively light-weight in comparison to its other alloy counterparts, weighing a mere 61 grams. This makes it ideal to hold bottles that are a bit heavy weight without bending and breaking. A 26 oz bottle, with a maximum diameter of 3" can snugly fit in. However, I wouldn't recommend using it with bottles that are too small in size as they may fall through. Installation is easy and the anodic oxidation on the surface keeps it corrosion and scratch-free.What's more it comes in twos, so double the joy!
Best Features:
Heat treated Aluminum Alloy for strength and durability
Easy Installation
Arms that wrap around bottle for a good fit
10 years warranty
Comes in a pair
A happy customer finds this "the best value on Water Bottle Cages. Bought the first set so that my wife and I could each have one on our bikes. Will probably buy one more set for our son's bike. They hold water bottles, are inexpensive, and mount exactly as designed"
2. BVBike Water Bottle Cage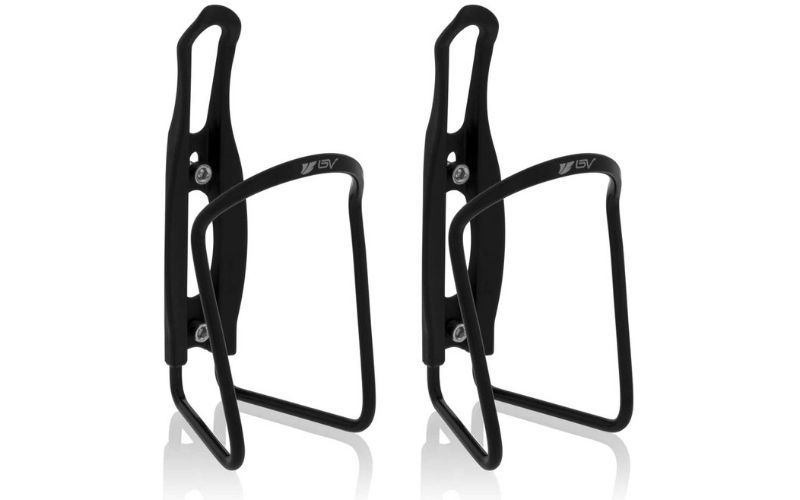 Looks-wise, the BV Bottle Cage is almost exactly like the one from UShake. Moreover, this one too comes in pairs. Although this one is also made from heat-treated aluminum alloy, what differentiates it from the UShake Bottle Cage is its lighter weight, with a difference of about 0.5 oz.The lighter weight is owing to the plastic mount, which is in contrast to the metal mounting of the UShake.Price wise also, this makes it slightly cheaper. This difference is in fact quite negligible, and you will have to evaluate whether you prefer a stronger metal mounting, or a lighter plastic mounting.You should be careful while mounting the bottom screw though. Ensure that you don't screw it on too tight. The Aluminum and Plastic combination does not have any welded pieces so it can expand to the size of your water bottle better. I often use one to carry my water bottle and another to hold my bicycle tool bag.
Best Features:
Heat treated Aluminum Alloy for strength and durability
Easy Installation
Arms that wrap around bottle for a good fit
15 years warranty covered by BikePak.
Comes in a pair
Here's a comment from a contented customer: "These racks are a good first fit for beginners or those who want to keep their bike as light as possible."
3. Pro Bike Tool Bike Water Bottle Holder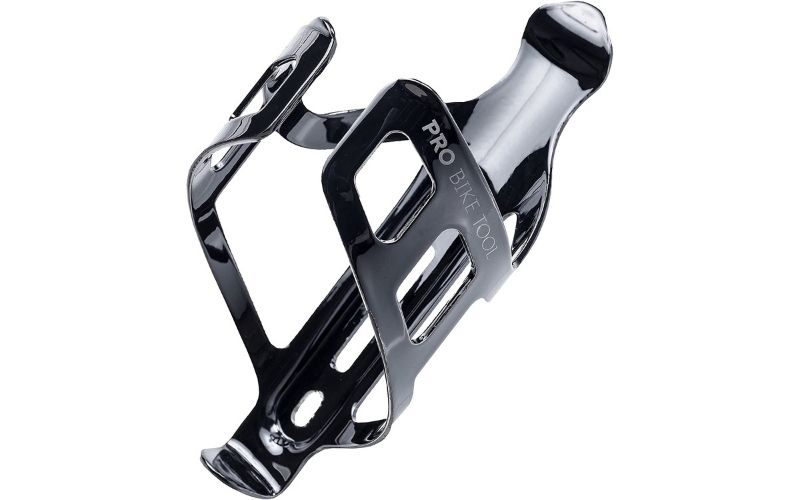 This shiny bottle cage has a futuristic design and the metallic powder coated finish and high tumble polish make it look good with your shiny new bike.It comes in four different colors, black, silver, white and carbon pattern, if you want the price of an aluminum bracket, but the look of a carbon fibre one. What's more, it can easily be wiped clean to re-expose its original luster. The ovalized design and sturdy side ribs give it extra strength and help to securely hold most standard bottles, including smaller ones, as well as cups .What's more, it is light-weight, weighing about 1.69 ounces, while at the same time being strong enough to hold a bottle from 500 to 950 ml size.Depending on the type of water bottle being used, the cage can be easily adjusted by +/- 0.2 inches / 0.5cm for a snug fit.The manufacturers claim that it takes less than 60 seconds to install this cage, but I claim that if you have the tools at hand, it takes almost 30!
Best Features:
Extra strength ovalized design
Comes with stainless bolts
Easy to clean
Durable aluminum alloy
CNC machined & heat-treated
Strong one-piece flexible design
Fits most standard-sized and over-sized bottles
Powder coating and tumble high polish for a shiny finish
A satisfied customer commented, "Great water bottle holder. It is moldable within a useful range. I like the coldest bottle which is large. It fits well and does not rattle. I have used many materials including carbon fiber and titanium. But these are excellent and are my new go to holder."
Also Read: How to Dress for Winter Mountain Biking
4. ABC Cage – Fits Any Bottle!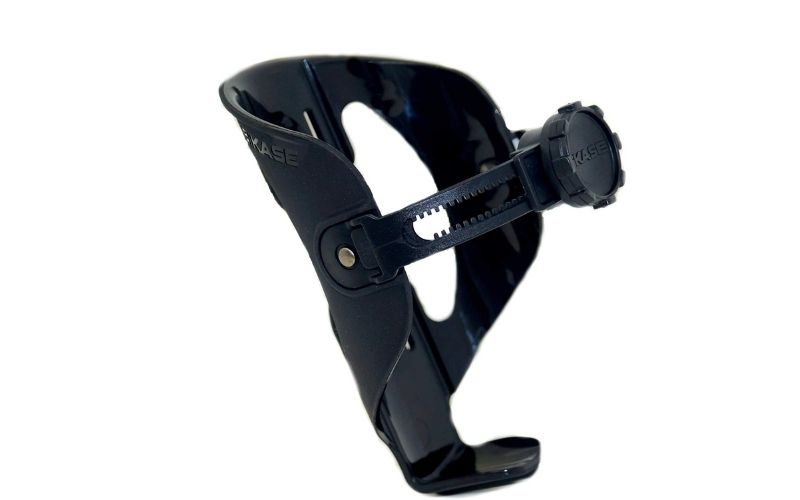 This is a more flexible bottle cage in the sense that it can be easily installed on any part of your bike and is not confined to pre-fabricated threaded mounting holes for the cage. The most interesting aspect of ABC Cage is that it fits any bottle, cup, or container 2 1/4 "to 4 3/4". This is due to the quick release style mounting handle, which allows you to fit it to the handlebars, under the seat, down tube, fork or front pipe, whichever you feel most comfortable with. With its extra strength oval arms, it grips the bottle nicely, preventing it from falling even when held upside down. As it is made of plastic material, it is heavy but is very light in weight For cost and flexibility, this is a good trade off In fact, many happy users prefer to use it in their ellipses Even at home. Best Features:
Can be fixed to any bicycle or any size of bottle
Quick Release style
lightweight
Made with Engineered Plastics
Can be fitted onto any part of the bicycle
5. Wiel Water Bottle Cage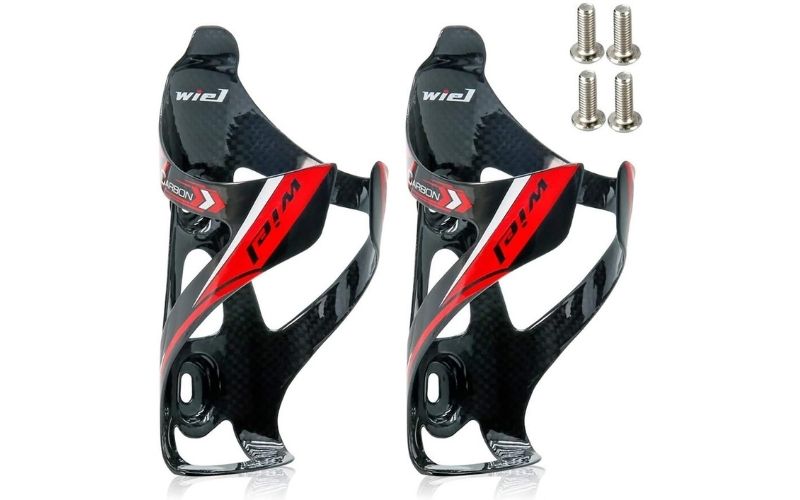 If you're into sportsy, racer looking models, this one is the right bracket for you. Made from 100 % Carbon Fiber, this bottle cage is incredibly strong and resistant to corrosion and scratches. Not only that, it is extremely light-weight too, just weighing an ounce! But don't be misled by its lightness. This good-looking piece has a tremendous holding power too, with a capacity to hold up to 5 kg of load. What's more, the carbon fiber properties make it virtually non-deformable.The curved arms allow you to comfortably insert your favorite bottle into it and take it out quickly during your ride. It however does not give a good hold if using smaller bottles. It is mostly designed for standard sized bottles. Well worth the price tag.
Best Features:
100% FULL Carbon Fiber Material
High Strength
Light weight – only 1oz/29g
Non-deformable
Corrosion resistant.
Good Holding power keeps the bottle put when riding over rough areas
A satisfied customer endorsed, "It is nicely constructed with smooth edges and a good finish. Very light weight and durable, survived a couple of hard crashes.I would recommend this to friends."
6. Alston Bike Water Bottle Holder Cage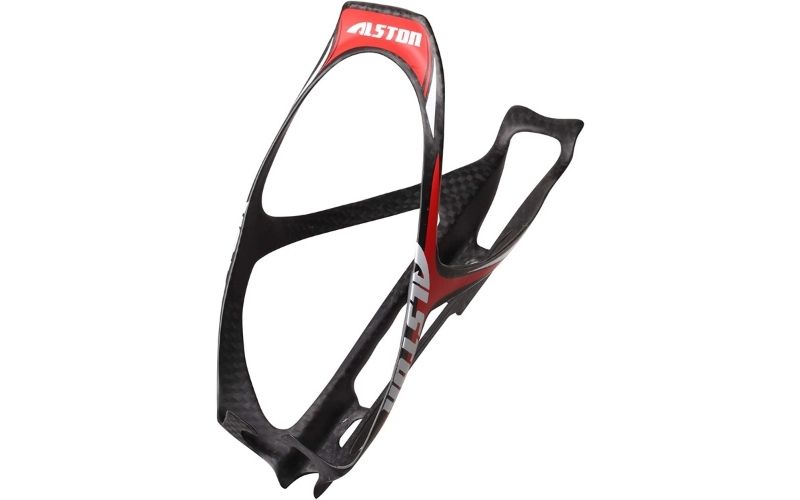 Speaking of Sportsy designs and futuristic looks, the ones form Alston have taken one step further. Boasting of using 100% Carbon fiber in the manufacture, the lightweight strong and durable bottle cage doesgood justice to its price. It has a smooth and sleek finish, almost with an aerodynamic streak to it. It is sturdy and capable of firmly holding a full bottle.The manufacturers claim that the body has been built using high quality filament imported from Japan Toray. It also beats corrosion and rust. The rounded arms give a secure grip to the bottle, even when riding through rough terrain.
Best Features:
100% high quality Carbon fiber
Stylish looks
Carbon fiber 3K construction high quality
Light weight: 31g +/- 1g
High quality new stylish material
Incredible hardness and strength
Non-corrosive and 100% rust-free
Special holding design
1 year guarantee and 24 hour online customer service
Its fans unanimously agree that "it is a very nice cage, love the matte Carbon finish! It looks exactly as described and does exactly what it's supposed to do"
7. IberaBicycle Water Bottle Cage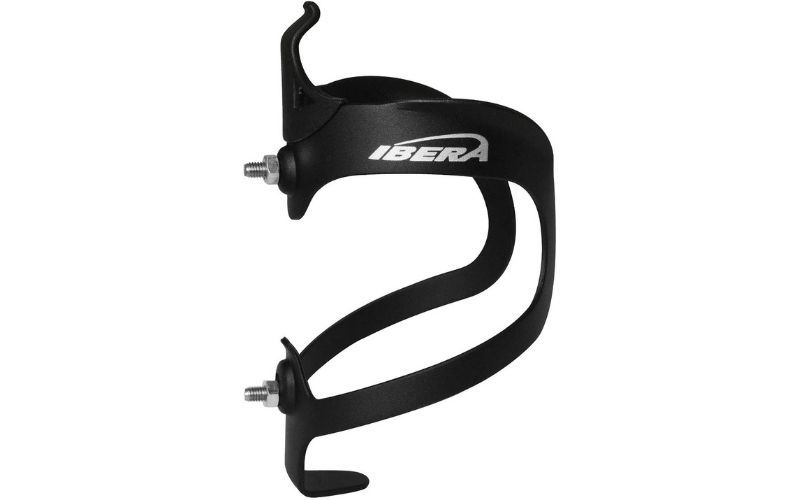 Ibera's lightweight aluminum bottle cage, though made from heat-treated aluminum plates, has the sleek and futuristic looks of a carbon fiber one. If you must know, heat-treatedaluminum plates are what bicycle frames and components are made from, so you can imagine the strength.That, combined with the low prices gives it the best of both worlds. It comes with stainless bolts and has an ovalized design for extra strength and durability. For the same purpose, the top and bottom lips are reinforced. Although the extra strength prevents it from flexing so much, I've successfully been able to hold my coffee cup in it with ease. The design is capable of holding most standard sized bottles and even some over-sized ones.The flared top opening is ideal for easy access to the bottle while riding as well as easy placement after drinking. And the weight you ask? If it matters at all, it is just 1.5 ounces, as good as not being there.
Best Features:
Ovalized design for extra strength
Top and bottom lips are reinforced for superiorhold
Flared top opening lets the rider remove the water bottle easily while riding
Sturdy side ribs
6061-T5 heat-treated aluminum plate
Comes with stainless bolts
One of its critics bought one, loved it, and then bought another one for his other bike. "Very light weight, good quality, comes with mounting bolts (if you need them), It fits snug, but still easy to remove while riding and doesn't feel like it would fall out."
Characteristics of a Water Bottle Cage

Shape
The shape of your water bottle cage doesn't just govern how it looks on your bike. It is also a major factor influencing the cage's bottle retention capacity. After all, that was why you are buying the cage in the first place. So do make sure that the design is such that it has a good grip over your bottle. Make sure the design includes a secure grip around the collar of the bottle in addition to the body. Here you can check best water bottles for biking.
There are some designs that have rubber inserts or collars to provideextra grip and absorb vibrations. An important consideration when travelling on rough roads. The last thing you want to worry about while riding is of your favorite bottle falling out. The shape should also allow you ease of access. The retention should be secure, but not too secure as to make the process of removing and replacing the bottle while riding difficult.
Size
Your bottle cage should be able to fit your bottle just right. It shouldn't be too small such that it cannot hold your bottle and it shouldn't be too be big such that your bottle fits in loosely and keeps rattling during the whole ride. It should hold your bottle collar at the right place and prevent your bottle from slipping off. You may even want to consider whether you want one that is capable of holding two bottles, if your hydration needs are greater. There are some bottle cages available in the market that give you the option of carrying 1 litre to 1.5 litre bottles too.
Also Check: 7 Best Mountain Bike Floor Pumps
Ease of installation
Most of us are going to be installing the bottle cage on our own, so the last thing we need after our purchase is to have to spend time engineering how to attach it to the bike. I have had a multitude of experiences struggling during the installation phase itself. I've lost a mounting screw, broken a cage while mounting it, and screwed it on so tight that it literally bent the cage. So I suggest you to look carefully into this aspect. Long story short, the installation process shouldn't equal out to rocket science.
Material
There are a variety of makes available in the market, most popular among them are those made from stainless alloy, carbon fiber or plastic. Alloy cages though on the heavier side, tend to be simple. Their biggest advantage is that even if they get bent out of shape from heavy jerking, they can easily be bent back into shape. Plastic cages are lightweight and simple, while their carbon fiber counterparts mostly have superior retention properties and boast of futuristic, sleek looks, in addition to being light-weight, although a tad bit on the pricier side.
Conclusion
Who knew there'd be so many varieties for a bicycle bottle cage right? Consumer industries are just spoiling us rotten with so many choices, and then we the poor consumers have to bear the brunt of making our choice, "Do I want that pretty and sleek one? Or the strong or durable one? Or the one with the better grip?….". Life has become a potpourri of choices. Thank Goodness you have me to narrow them down for you! See our all guide for mountain biking here.