Does A Rear Bike Rack Damage Your Car? – 2022 Guide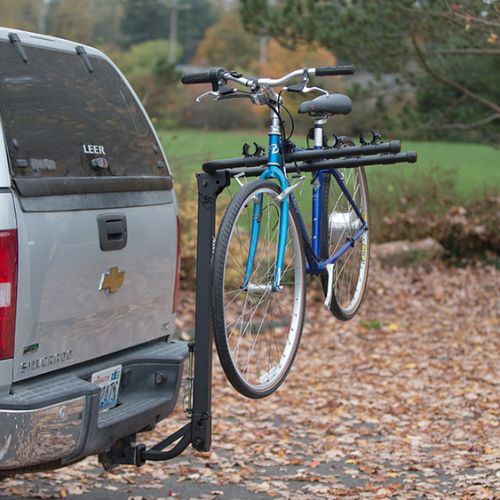 Yes, a rear bike rack will damage your car unless properly taken care of. And this goes out to all the avid bike riders who like having their rear bike rack for the convenience of a journey, and have, at some point in their lives wondered, "does a rear bike rack damage your car?"In this article, we try to attempt to answer this very question.
We talk about the variable kinds of rear bike racks out there, how they may cause damage to your car, and discuss the different preventive and curative measures that can help you tackle the issue.
A rear bike rack can prove to be quite essential as it helps save your energy, time, and money. So does a rear bike rack damage your car? Keep reading our article to find out!
What Is a Rear Bike rack?
A rear bike rack, also simply known as a bike stand, is a device that is used to securely attach your bike to it, for parking purposes. It may be standing freely or be attached to the ground or other concrete bodies such as larger vehicles, buildings, etc.
If not attached properly, such bike racks can damage your vehicle, in this case, your car, over time. If the front wheel of your bike is not secured, it will rub against the paint of your car while you drive; resulting in scratches and fading of the paint over time.
Does A Rear Bike Rack Damage Your Car?
The only plausible answer here is yes. It is almost an inevitable part of owning a rear bike rack that is attached to your car. As the bike rack sits against the car and is strapped to the edges of the trunk, it may rub against the car; putting scratches on it or causing other damages while you drive.
The greater the friction, the more the damage. And since it is not possible to always keep an eye out for the back of your car while you are driving, it is almost impossible to completely prevent your car from getting a little scar here and there.
However, one can still take several measures that will allow them to keep the damage at bay and even prevent the rear bike rack from scratching your car to some extent; thereby allowing you to enjoy your journeys without having to worry about your car or carrying your bike.
How Does A Rear Bike Rack Damages Your Car?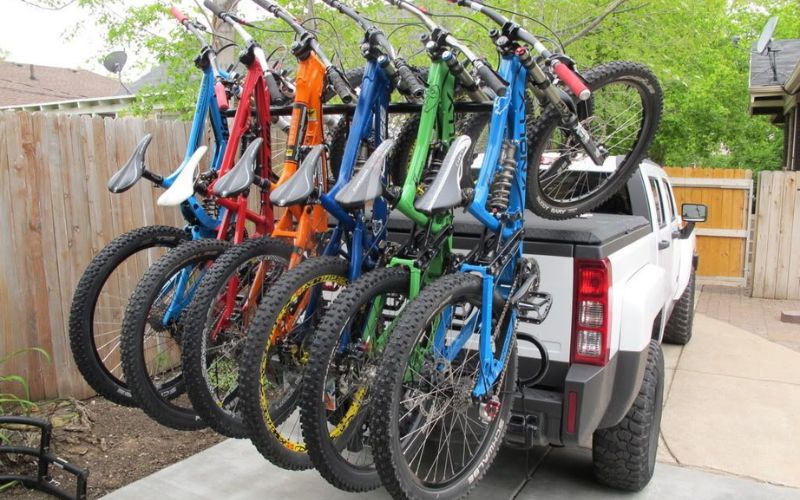 Here are a few drawbacks of having a rear bike rack attached to your car. Let's take a look to find out what they are.
The Weight Of The Bike Rack
Your car has its weight which is designed in a way to maintain its grip on the ground. When you add a rear bike rack to your car, it naturally adds weight that may alter the center of mass and rotation of your car. Additionally, the body panel and paint of your car may also be damaged because of it.
Blockage Of The Rearview Mirror
Mounting a bike rack on the rear of your car not only blocks your blindspot view but may also cause a collision with side objects; resulting in damage to your car from the impact of the collision.
Strap Failure
Securing your bike to the bike rack with straps is just as important as proper mounting of the rear bike rack on your car. If you do not properly tighten the straps while securing your bike on the rack, you risk the potential of severely damaging your car by allowing your bike to slip or slack off the rack.
Wind Resistance
Apart from physical damage, a rear bike rack can also affect your car by enhancing its wind resistance. This can exponentially reduce your gas mileage and create turbulence that will directly impact your car.
Changes In Car's Dimensions
Since adding a bike rack to your car alters its overall length and breadth, you may face difficulty in navigating your vehicle through enclosed spaces or places with low ceilings. Installing spoilers may also become more laborious.
Also Read: Are Hydration Backpacks Worth It For Mountain Biking?
How To Prevent The Bike Rack From Damaging Your Car
Slight damage to your car here and there occasionally is almost inevitable when you have a rear bike rack attached to your vehicle. But there are still certain measures one can adopt to minimize the extent of the damage. Here's what you can do to prevent the bike rack from damaging your car.
Installing The Bike Rack Properly
Follow the instruction and installation guide thoroughly while installing the bike rack to the edge of your car. If you are unsure about the setting, you can go to a local garage and get the job done by professionals.
Choosing The Bike Rack Type
The type of bike rack you will be using also impacts the condition of your car. Rear-mounted racks usually require more space on the back for reversing. Make sure you keep your bike rack type in check before installation.
Keeping The Contact Points Clean
Unless the contact points between the bike rack and car are cleaned properly, the accumulation of dirt within these spaces will create more scratches on your car due to the friction. Dirt stuck within the foam you use between the contact point of the rack and your car can also result in scratches when the foam moves.
Taking Protective Measures
Using protection tape or paint protection film in areas of your car that are more prone to friction with the bike rack is also a great way to prevent scratches and wearing down of your car.
Loading The Bike Carefully
Securing your bike on the rack properly is just as important as proper installation of the bike rack.No matter what the location of the rack is, make sure you always secure the bike with straps in a manner that isn't too close to the bumper.
Because if it is too close to your car's bumper, the rotating pedals may result in scratches and dents in your bumper. 
In Case Of Unforeseen Minor Damages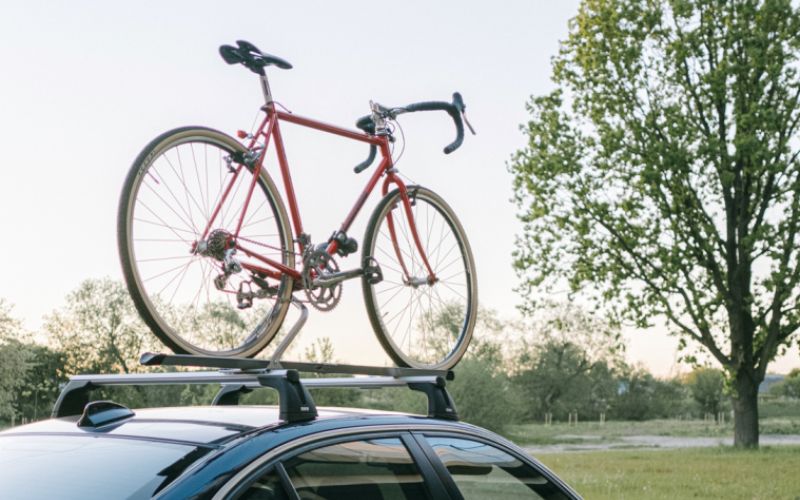 Unless your car suffers from serious damage, you can easily take care of the minor scratches or damage by following a few simple steps.
Using Candle Wax
Using candle wax is a temporary measure for covering the scratches. You need to clean the scuffed area and apply the wax carefully after it has dried. This will reduce the visibility of the scratches for some time.
Applying Urethane Paint
Although a good quality urethane paint is difficult to procure and is not even sold for us general public to use, it is an excellent way to cover up the damaged areas of your car.
Finding The Right Shade
Another atypical way to cover up for the damages to your car lies within your makeup vanity! Yes, you read it right. Nail polish is another great resource to hide those ugly scratches. Nevertheless, it still may be difficult to find the exact shade that matches your car.
Using Super Glue
For the scratches that run a bit deeper, using super glue before applying the auto paint is the perfect way to cover the damage.
Using toothpaste
Another household item that you can use easily to cover up the damaged bit of your car is toothpaste. Apply a layer of toothpaste over the scratched area and use a paper towel to wipe it off after some time. Keep repeating this step as many times as you think is needed.
Using Shoe Polish
Using shoe polish to cover your car scratches not only does the job well but also gives an additional benefit of making your car shine brighter. Using a darker polish to match your car is the best way to do it. All the above-mentioned interventions are temporary and only for minor damages. If your car is severely damaged, make sure you go to a hardware store to get professional help instead of trying to figure it out on your own.
Conclusion
Bike racks these days are manufactured with the use of cutting-edge technology which reduces the risk of damaging your vehicle but does not abolish the issue completely. That is why, it is important to understand how your rear bike rack can damage your car; and the measures you can take to tackle or prevent the situation to enjoy safe transport for your bike, whenever and wherever.
If you are interested to find out more about the safe transport of your bike during your travels, you can also read our article on the Bike frame adapter bars.