Best Bike Frame Adapter Bar – Why Use & Buying Guide In 2022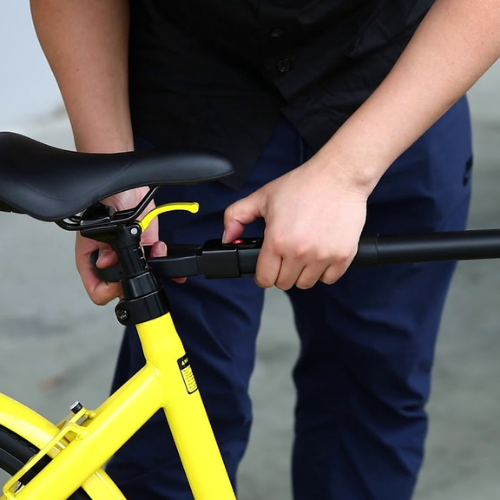 If you are looking for a good quality bike frame adapter bar in the market, you have come to the right place! Because this article is all about bike frame adapter bars. Bike frame adapter bars are all the hype when it decides to adopt the best way to transport your bike if you are having trouble mounting it on your car rack.
So choosing the right one that will serve your purpose is important. In this article, we talk about two of the best bike frame adapter bars that are currently dominating the cycling world, narrate the points you must keep in mind while getting yourself a bike frame bar, and elaborate on the reasons why you need one in the first place. So without further delay, let us get into the article.
So What Is A Bike Frame Adapter Bar?
A bike frame adapter bar, also commonly known as a cross beam, is a tool used by cyclists that acts as a bridge between the bike's seat tube and stem. Once in place, the adapter bar can be used to attach your bike to the cradles on your hitch rack or truck-mounted rack.
It is a very convenient way to carry your bike in your car. Not only does it help to transport your bike safely, but it also helps to save up a lot of storage space for your car.
Why Use A Bike Frame Adapter Bar?
A bike frame adapter bar is a necessity in most cases. Especially for those riders who like to carry their bike with them wherever they go. Unless your bike has a level bar from seat to handles, it will be more likely to be less neatly seated on the rack.
Moreover, when you are transporting more than one bike without adapter bars and they are all on different levels, one side of the rack is more likely to bear more weight; posing the risk of damaging your vehicle. To prevent all of this from happening, bike rack adapter bars are essential.
Especially if you have a non-standard bike frame, an adapter can come in very handy. Unless you have enough room on your bike rack to keep your bikes balanced and level during transportation, or racks that utilize the bike's wheels as attach points, you will need a bike rack adapter to do the job of safely transporting your bike without causing damage to your car or vehicle.
Using a bike rack adapter bar is an easy solution that allows you to fit your bikes into your car's rack. It is especially recommended for those who use women's bikes, kid's bikes, and full-suspension mountain bikes.
Buying Guide
Choosing the right bike rack adapter bar can be overwhelming when you have so many options in the market to pick from. But fear not, as our comprehensive buying guide will include all the features you need to keep in mind while choosing a good quality adapter. The key aspects to keep in check are as follows:
Budget
The amount you are willing to spend on a bike rack adapter bar will be a significant part of how the adapter will be. While high-end bike adapter bars will naturally cost more, you will also find a lot of affordable options that are also good in quality and performance.
Size
Getting the right sized adapter is perhaps the most important factor to ensure a great fit. Going for adjustable adapters is a safe choice. If you do not find an adjustable one, make sure that you get the distance between the seat and handlebar correct for the right adapter.
Mount
A good-quality bike adapter is easy to knit and will stay firmly in place. Look for models that use a clamp system to hook around the seat and handlebar. This type of bike rack adapter bar is easy to install and will hold your bike securely.
Material
The material used for the construction of your adapter will determine its sturdiness and capacity to withstand shock or impact. Try choosing the ones made from aluminum, carbon fiber, or other resistant metals like steel.
Carrying Capacity
This will depend on your need. If you have a single bike, choose an adapter that is designed to carry a single bike only. But if you intend to carry multiple bikes on your trip, go for an adapter will greater capacity. Don't forget to check its dimensions and confirm its carrying capacity.
Weight Capacity
This is just as important as the carrying capacity of the adapter bar. If your adapter is overloaded, the chances of your bikes dropping mid-road or the bar breaking, increase. It can also potentially damage your car. So make sure you check the load capacity of the adapter you intend to buy.
Versatility
Try to choose an adapter that is compatible with different kinds of bikes, even the unconventional ones, such as full-suspension bikes, women's bikes, kid's bikes, etc. The adapter should also be compatible with the rear-mounted and hitch-mounted rack; which you can easily check for in the bike's specifications.
Weather Resistance
Since the weather is always unpredictable, it is a wise investment in a good quality bike rack adapter bar that comes with weather-resistant properties or has an anti-rusting coat.
Protection
Choosing a bike rack adapter bar with molded rubber or plastic-coated clamps will be useful in keeping your bike's polish protected.
Warranty
Always lookout for the adapter's service. Make sure it comes with a warranty with a proper refund, delivery, and exchange terms.
2 Best Bike Frame Adapter Bar
1. Allen Sports Crossbar for Transport on Step-Through Style Bikes
Sale
The Allen Sports' model 900B is undoubtedly the best bike frame adapter bar in the market that has garnered attention for its compatibility with any standard bike rack. This best-selling adapter bar comes with a steel body that is capable of withstanding the weight of heavy bikes and is resistant to all kinds of weather.
Equipped with internal springs for better security of your bike, the bike frame adapter bar comes in a length varying between 16 to 27 inches. You can use this bar to mount more than one bike; making it ideal for families and groups who are into cycling.
This lightweight bike is easy to install, and maneuver and comes with a lifetime warranty. Although the plastic-coated hooks claim to protect the finish of your bike, there have been a few instances where the metal ends of the hooks damaged the bike's polish.
Features
Steel construction
Internal spring
Plastic coated hooks
Weight: 2.3 pounds
Pros
Lightweight
Easy to use
Durable
Secure fit
Maintenance of constant tension
Versatile use
Weather-resistant
Easy installation
Lifetime warranty
Cons
The metal ends of the hooks can damage your bike's finishing
2. SportRack Adjustable Bike Frame Adapter
SportRack Alternative Bike Adapter
Carry kid's bikes, women's bikes and other uniquely shaped bikes on your haning hitch rack or trunk mounted rack using this adjustable frame adapter
The adapter is connected at the stem and seatpost of the bike and provides a horizontal bar to easily mount on the arms of your bike rack
Adjustable to most bike frames. Minimum spacing is 18 in / 46 cm. Maximum spacing is 30.5 in / 77 cm
For use with one bike at a time
The SportRack bike frame adapter bar is another great option for those who have to carry bikes with uniquely shaped frames on a rear-mounted hanging bike rack. With a steel body and black powder anti-rust coat finish, this bike frame adapter bar is quite durable.
The telescoping design and protective loops of the bike frame adapter allow different geometry bikes such as women's bikes, kids' bikes, BMX bikes, and those with sloping down tubes; to ride on a hitch or strap rack arms.
The adapter bar is easy to use and is adjustable to most bike frames. With the adapter connected at the stem and Seatpost of the bike, it provides a horizontal bar for easy mounting on the arms of your bike rack.
Features
Steel construction
Telescoping design
Protective loops
Weight: 2.8 pounds
Pros
Easy to use
Compatible with most bikes
Adjustable
Lightweight
Durable
Cons
Can only be used with one bike at a time
Which is better?
The Allen Sports Crossbar is surely the winner among the two. With its multitude of features, the bike rack adapter bar has been a popular choice among bike enthusiasts. With a steel body that can endure heavyweight and adverse weather conditions, this adapter is a clear winner. It is not only easy to use but also lightweight, comes with a lifetime warranty, and is capable of maintaining constant tension thanks to its internal spring.
Conclusion
Drawing an end to our article on bike rack adapter bars, we hope you found our article helpful in giving you an overview of their importance and the factors that should be considered while buying one for mountain biking. You can either choose from the models mentioned in this article or one that fits your needs. The goal is to make the process of hooking up your bikes and carrying them around wherever you go, less arduous. You can read more about mounting bikes on racks in our article 'does a rear bike rack damage your car?'