7 Best Mountain Bike Floor Pumps – In 2022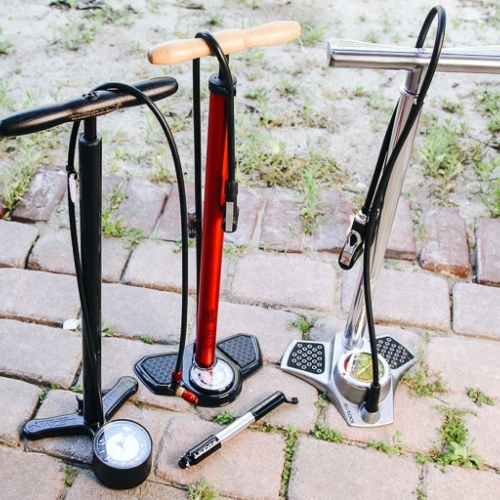 If you are a biker you must know that the bike pumps are the soundless heroes of cycling. So you won't be able to go riding without mountain bike floor pumps. It can be either a bike floor pump or a bike mini pump.
It is important to choose the best mountain bike pump so that you can always easily insert more air into your tires, as per the need, it can be before or during your ride.
A floor pump does its job with more accuracy and more efficiently, though a mini pump can help you until you are home again, where you can use your floor pump. Preferably, you must have one of each so that you can be comfortable using both if needed.
While you are going out to have a beautiful ride you must check your tire pressure and make sure that it balances with the trail and the surrounding conditions.
If your bike's tire pressure is too low, you may have slapdash handling and you may feel that you are riding on a heavy road or too high and you will be uncomfortable and bumpy while handling endures. So you need to adjust your tire pressure.
A good-quality floor pump can be the best tool to use to get the right pressure to the tire of your bike. Bike floor pumps are also known as track pumps.
How to choose a Mountain Bike Pump can be tricky, but not impossible so we have tested a large number of bike pumps and reviewed some of the best floor pumps among them and made this guide for you to inform you that what you need to consider while choosing mountain bike floor pump.
7 Best Mountain Bike Floor Pumps
| | | | |
| --- | --- | --- | --- |
| | | | |
| Topeak Joe Blow Sport III High-Pressure Floor Pump | | | |
| BV Bicycle Ergonomic Gauge & Smart Valve Head | | | |
| Vibrelli Bike Floor Pump with Gauge & Puncture Kit | | | |
| BETO Bike Pump Portable – Bicycle Floor Pump | | | |
| | | | |
| Bicycle Floor Pump with Gauge, 160 Psi High-Pressure | | | |
| Blackburn Chamber Bike Floor Pump (High-Volume, Camo) | | | |
1. Topeak Joe Blow Sport III High-Pressure Floor Pump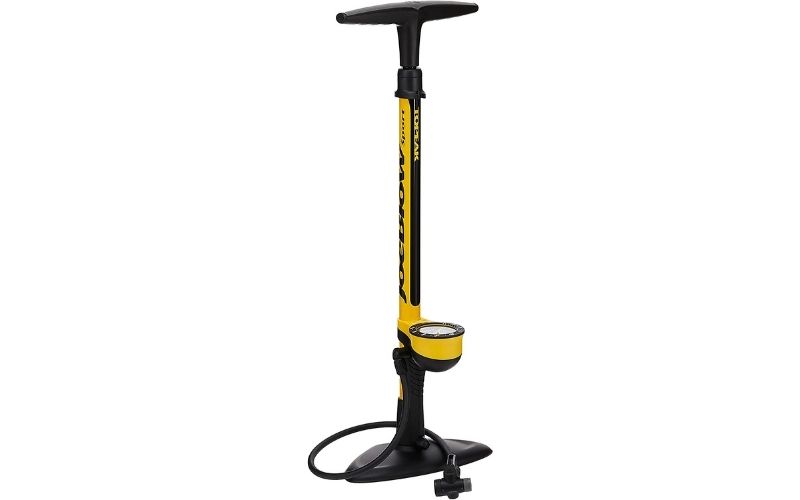 Why do we love this bike pump
The Topeak JoeBlow Sport III pump is one of the top choices from Topeak. It comes with an amazing combination of versatility and durability.
This pump works with most of the valves like Presta, Schrader, and Dunlop valves. Besides, it contains adapters to fill the air bladders and sports balls as well.
The hose is attached to the pump and there is a hose dock controller available. When it is not in use the head is off the floor and keeps the head secure from being run over or stepped on when you are in rush to pull your car.
A spinning connection allows your tires to fill at different angles and maintains the hose from twisting. The top mountain bike floor pump from Topeak is designed with a dual-density polymer that is easy to handle and comfortable to use.
It comes with a 3inches easy readable gauge, which is fixed at the base and it sports a chronograph-style face. There is also an air pressure indicator available so that you can pump your tires with accuracy.
Apart from all these the base and the steel-made barrel are extremely durable and made the pump one of the best mountain bike floor pumps
Key Features
It features with durable, steel barrel and base
It comes with the ball and bladder head and an amazing imported hose dock
The max pressure is 160 psi /11bar
It designed with the ergonomic padded handle and extra-long 360° pivot hose which makes the pump comfortable and easy to use
The hammer style TwinHead DX pump head 317.5 cc air volume per stroke fits with all types of valves
Pros
The Topeak Joe Blow Sport lll is a well built and durable pump
The pump head for Presta, Schrader, and Dunlop valves make it very user friendly
The long hose makes the pump easy access to any valve
The hose can be turned 360 degrees
It's a money worthy pump
Cons
An analog pressure gauge may show a less accurate reading compared to a digital pressure gauge
Customer's Evaluation
Great looking pump that handles Presta and Schrader valve stem with ease! It's easy to pump! Anyone should be able to inflate tires. I did four with different valve types in a matter of minutes! Plus it's very sturdy and looks great. It was well worth spending the extra few dollars knowing I can check tires every few rides without an enormous hassle. Very pleased with the product based on my initial use.
– Amiel
2. BV Bicycle Ergonomic Gauge & Smart Valve Head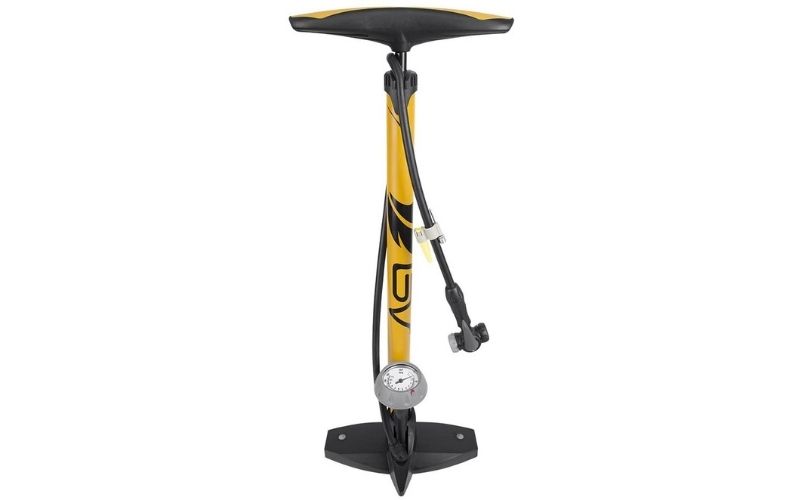 Why do we love this bike pump
BV Bicycle Ergonomic Bike Floor Pump is a top-class floor pump with the smartest valve head, which can be, fitted for both types of valves Presta and Schrader. It also comes with an easily readable large gauge. The twin Valve Design is the most recently designed valve head and can switch between Presta and Schrader valves easily and with no chances to air leaks.
The durable and solid-made bike pump is the best bicycle pump for competitive and community riders. The BV bike pump is available in 2 different colors.
The Steadiness, Secure, durable base, and large handle make this floor pump easy to fill the tire to the high pressure of 160 psi. The long steel barrel permits more air to be pushed through with every pump and making it easier and faster to pump.
The large hose with a 360-degree swivel makes your pumping experience more comfortable and easier. The perfect and easily readable large gauge will help you to reach your preferred pressure.
This bike floor pump you can use on inflating sport balls, water tubes, and pool floats as well. It comes with an extra sport ball needle and inflatable device.
Key Features
Maximum pressure of inflation speed 160psi
Aluminum-made solid and durable barrel base designed with comfortable handle.
The large hose with 360-degree rotation will make your pumping easier.
The perfect and large gauge features with easy readability and will help you to reach your desired pressure.
Recently designed valve head can be switched between Presta and Schrader valves easily
Pros
The valve head is compatible with both valves Presta and Schrader
Well built and durable floor pump at a reasonable price
Extra-large hose with 360 rotations
Very user-friendly and comfortable to use
Lockable Twin Valve Design
Cons
Sometimes the Gauge reading may not be accurate
Customer's Evaluation
Excellent product. I like the twist selector instead of the type that pulls up to secure; this one fits easier in small spaces. It reaches desired P.S.I. with few pumps and it does not seem difficult to get those last few in before it gets difficult to pump."
– P.B
3. Vibrelli Bike Floor Pump with Gauge & Puncture Kit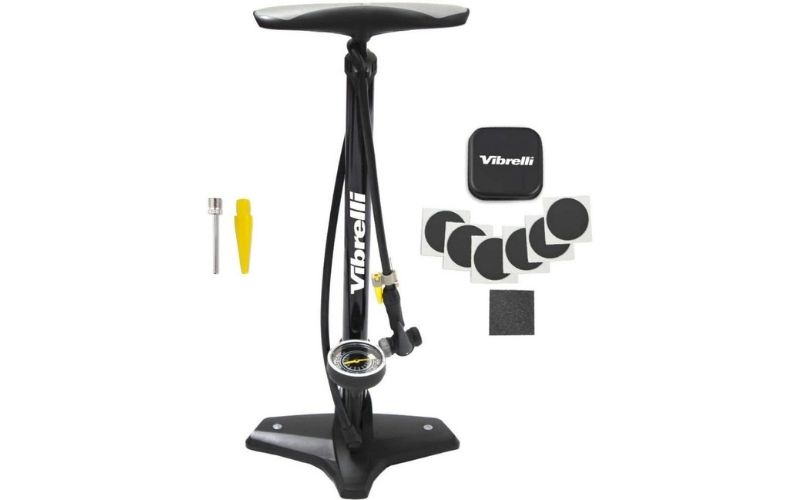 Why do we love this bike pump
The Vibrelli bike floor pump is a popular choice for bikers. The Vibrelli is a few shorter than the average floor pump, which makes it a more convenient travel buddy. You can hide it easily to jigsaw into a trunk that is already overloaded with bikes and gears. The structure of the bike pump is strong enough but not heavyweight. It is lightweight and it will never push your baggage over the custom's weight limit.
The gauge is well designed and the gauge maximum pressure is up to 100 psi, though the display on the dial goes all the way up to 160 psi.
This is a good outstanding pump that performs very well and it may suit most of your needs, whether you may pump up a low-pressure mountain bike tire, high-pressure road bike tire, or something else in between.
The Vibrelli bike floor pump is made with a steel shaft. The base and handle are plastic made which makes the bike pump a budget-friendly pump with great value.
Mostly this bike floor pump is best for road bikes and thin gravel tires. Though you may use it to fill fat tires or your mountain bike tires it is not a high-volume pump.
Key Features
This pump fits both Presta Valve and Schrader valves automatically
The design intended with a lightweight steel barrel and wide base
Inflates maximum pressure is up to 160 psi
The bicycle pump pressure gauge is large enough to read easily
It includes a ball Inflation needle and inflatable device valve
It comes with an emergency glueless puncture kit
Pros
Great value with the price
Includes easily readable gauge
Special T-valve compatible with both Presta and Schrader valves
Long hose
Long warranty
Cons
Customer's Evaluation
This thing is amazing. Pumping is so much easier and more efficient than my last pump, and the thing seems high quality so I don't think it'll get any tears (like my last pump did).
– Yan Yagudayev
4. BETO Bike Pump Portable – Bicycle Floor Pump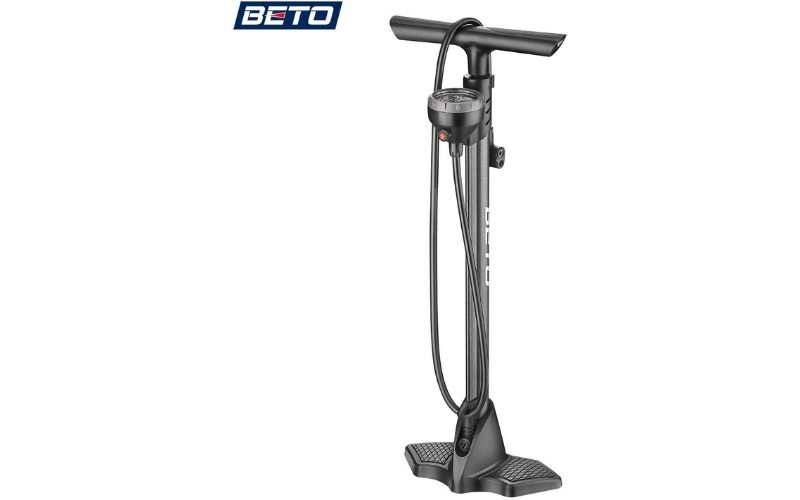 Why do we love this bike pump
The BETO portable bike pump is the fully-featured most popular bicycle pump currently on the market. It is a bit expensive pump but money-worthy. The pump is well built and it has a strong footplate, cylinder, handles, and the barrel is 25 inches long and wide. This feature provides it plenty of capacity to make inflating your tires very easily and comfortably.
On the other side, it includes the patented dual-headed nozzle and the extra-long hose. It is great that you may get a developed accurate and easy-to-read gauge and there is a good option that you can place it in the best position to read comfortably.
It works for Dunlop, Presta, and Shrader valves. One of the best features is the presence of a great pressure bleed valve and it is positioned on the back of the gauge. It is one of the best mountain bike pumps on our list.
Key Features
It features a 2.5-inch industrial gauge on top
Maximum pressure 160 psi
A great pressure bleed valve
32m steel barrel
Stable combination base
The Ball needle set is stored in the handle
Pump valve head fits Dunlop Schrader and Presta
Pros
The gauge can be moved according to your needs
The gauge is easy to read and accurate
25-inch long barrel with high capacity
Great pressure bleed valve
Extra-large hose and appropriate to use with all three valves
Bladder needle set integrated into the handles
Cons
The pressure relief valve position is poor
Customer's Evaluation
Works great. Great features. Nice to have access to both Presta and Schrader at the same, and I like the overfill valve.
– Tony Zee
5. AerGun X-1000 Bike Pump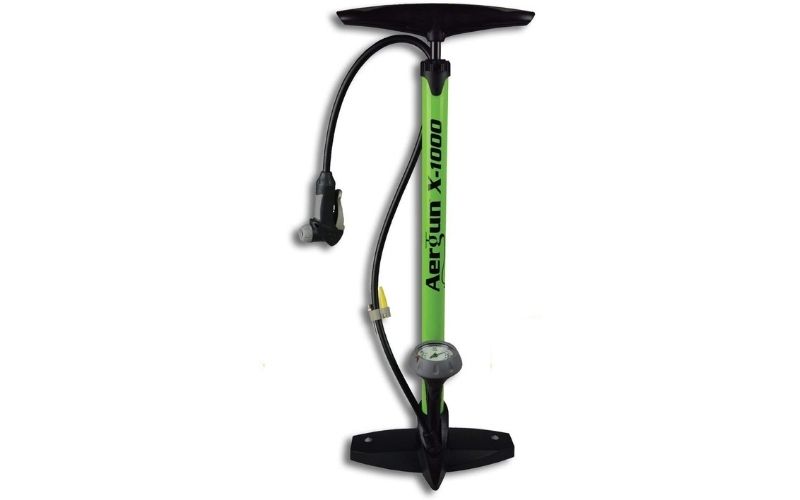 Why we love this bike pump
The AerGun X-1000 Bike Pump is another best choice from our list. The pump comes with one of the best heads that we have found on any other option. The head is compatible with both valves Presta and Schrader. The Airgun X-1000 is also built with an ergonomic design, which makes the pumping process comfortable and efficient for all users.
Just like all other top-listed floor pumps, it also comes with a state-of-the-art gauge. This can assist you to get more accurate pressure and it may go up to 160 psi.
For the price, it might be a little bit expensive compared to other floor pumps but definitely, it is a money-worthy buy with the quality. It comes with a good quality needle, which is used to pump sports equipment, and it is a multifunctional pump.
It also can be a good choice for beginners who might not have vast experience with tires. Besides all these, while you purchase the pump you will also receive an extra Ebook, which can be more helpful for you to know about the tires and the features that you may need to look for.
Key Features
Maximum pressure bike tires up to 160 psi. Necessary for a high-performance bike
It Includes ball and bladder needles other equipment
The industry-leading bike pump is easy to use and the valve head fits Dunlop Schrader and Presta
Adjustable easy-to-read gauge indicator for easy to use and accurate fill
Durable, steel barrel with extra-large, flexible hose for more convenient tire pump on all bikes
Pros
The pump is strong enough and ergonomic design
An additional Ebook added
Contains an accurate gauge
It is a Multifunctional pump
Cons
The price is a little high
Customer's Evaluation
Pumping my tires used to take 3-5 minutes each, and I would be sweating profusely by the time I was done. This pump makes it so much easier.
– J Vieitez
6. Bicycle Floor Pump with Gauge, 160 Psi High-Pressure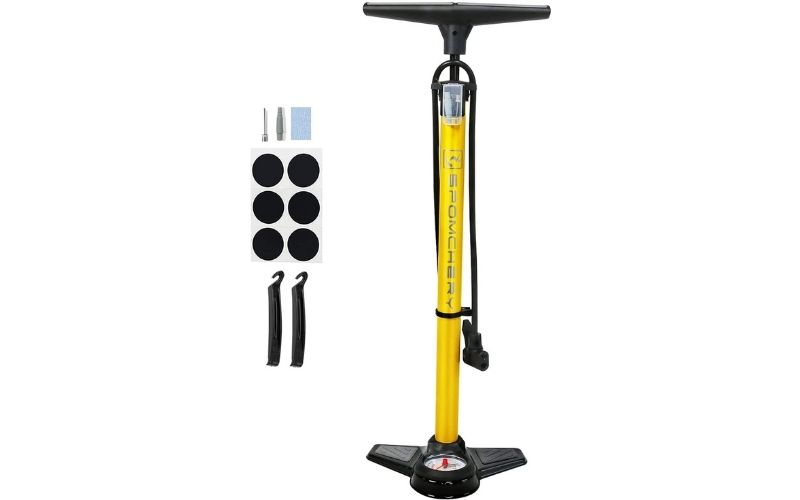 Why we love this bike pump
The Bike pump bicycle floor tire pump comes with two valves for Presta and Schrader. The double valve design allows you to fill more conveniently. You will be able to inflate your bike without switching the adapters.
The bicycle air pump is constructed with high-quality materials. It is made of metal and it is strong enough. The great smooth inner barrel also makes inflation easy.
This pump can be used for multitasking. The Bicycle pumps can inflate bicycles, motorbikes, electric cars, automobiles; it also comes with a sports ball needle and an inflatable cone. So by using it you can also inflate a swimming ring, air cushions, and some other inflatable ball equipment.
The maximum pressure of the bike air pump is 160PSI. The pump also has a pressure gauge. The pressure reading can be displayed accurately during inflation. Observing pressure is very convenient and perfect.
The pump base is made with wide plastic and it is lightweight. The non-slip handle helps to raise the constancy of inflation. It is also very comfortable.
Key Features
The metal barrel is High airtightness and durable
Comfortable Non-slip handle and floor double foot pedal design make the pump more stable
Our hose with a 360-degree rotating pivot will make your pumping experience easier
The Bicycle tire pump has two types of valve connectors to inflate the Schrader or Presta valve
The Clear Large and accurate Gauge will help you to reach your desired pressure.
The maximum pressure is up to 160 psi
Pros
Comfortable Non-slip handle
Large hose with 360-degree rotating pivot
Accurate, large, and easy-to-read dial
Two type valve connectors Schrader and Presta
Cons
Customer's Evaluation
Much better than other floor air pumps. The dual nozzle is easy to use including the tire gauge. Can't go wrong with the price.
– Gilbert Z.
7. Blackburn Chamber Bike Floor Pump (High-Volume, Camo)
Why we love this bike pump
Blackburn Chamber HV bike floor pump is designed to make your every experience pump wonderful.
It's conspicuous, a 29×2.3in the wide tire can develop between two to three psi with each stroke. Each stroke is tougher than a regular floor pump to compress, but it is slightly assuring to feel in your triceps how much air is being moved, and know much sooner you are going to ride.
The hose is extra long at 47inch.
The gauge is massive in size, probably the biggest one you will ever see on the list of floor pumps. It is displayed on the bottom of the pump. It is easily readable with a bright orange face and increases of five up to 50psi.
The steel base is strong built and wide enough to use comfortably and the downstroke feels organized and durable. The solid steel structure and the tight manufacturing are appreciated reprieve from wiggly or poor feeling plastic pumps.
Key Features
Extra-long 47″ hose to reach valves in stands
The Pump head designed with a rugged alloy cap and lever
Supersized gauge with a large number and easy to read
It has an air bleed button and provides a solid foundation
Well built steel base and barrel
Pros
Well made and enough durable
Large-diameter barrel
Extra-large and easy readable gauge
The base is stable
Wide swappable handle
The pump head features a useful alloy lock lever and air bleed button
Cons
Customer's Evaluation
Good pump, excellent for lower levels of inflation because of the dial. The bottle opener is a bit overkill, as is the camo color, but the product is excellent for our needs.
– Amazon Customer
Things to Consider Before Choosing the Best Mountain Bike Floor Pump
Firstly, The most important thing is you need to make sure that you have the right air pressure to have an easy and comfortable ride. If you are a bike rider and do not have a properly inflated wheel, you must know the problems very well and how you feel like.
On the other side, if the tires are too pumped up then your bum will surely feel each bump in the road.
So it doesn't matter you are either a mountain bike rider or an off-road biker, it is even more important to get all the tires pressures just be accurate because it is desperate to make a sure grip in free conditions and, if you are operating the inner tubes, by preventing pinch flats.
You may prefer mini pumps but there are lots of children's bikes and entry-level bikes that come with the Schrader valves rather than Presta, so you need to make sure that your pump is compatible with both types. And if you are planning to use it for a track bike, it will require getting much higher pressures.
Filling your tires with a mini-pump before you leave for a ride is a choice, but it is quite faster, and easier if you have a separate track pump or floor pump at home. Mostly the floor pumps come with a gauge so that you can regulate the tire's pressure appropriately.
It comes with a secure base, and most of them feature a metal barrel, which is good for pumping efficiency and durability. The handle of your bike floor pump must have to be comfortable and wide enough that the corner edges of it don't crack into your hands.
Valve
There are two common types of valves available, Presta and Schraeder. A good quality pump will be able to connect with two of them. The connection must be simple and easy so that it doesn't cause any influence on it, which can damage the valve or tube.
Unintentionally splitting out a valve may leave you stuck in the middle of nowhere, so it is important to pay attention to getting good-quality pumps. Some pump heads come with the push and lock straight onto the valve that has a high risk of destruction.
The best quality pumps come with a flexible hose, which screws on. This segregates any movement from the pump, blocking the valve from getting shoved around.
Easy to Attach
The connector from the pump to the valve must need to be fit easily without unsettling the center of a Presta valve, which can outcome in loss of air from the tire. The connector needs to be compatible with Presta and Schrader valves so that the bike pump can be used for Mountain bike tires.
Hose Type
It can be very helpful to have a long hose on a floor pump so that you may find anyplace secure to place the pump body without demanding to change the bike position.
If you prefer to use a bike stand and when the bike is lifted from the ground, a long hose can help to easy access without having to fiddle around with the valve's position.
Pressure Gauge
A Mountain bike floor pump must feature a gauge so that you can measure straightforwardly what pressure you have grasped. If you have poor eyesight you must consider that usually, this is at floor level, so it is essential to be noticeably graduated and big enough to make sure that you can read it.
By reading our entire guide you can research to find your best mountain bike floor pump for you.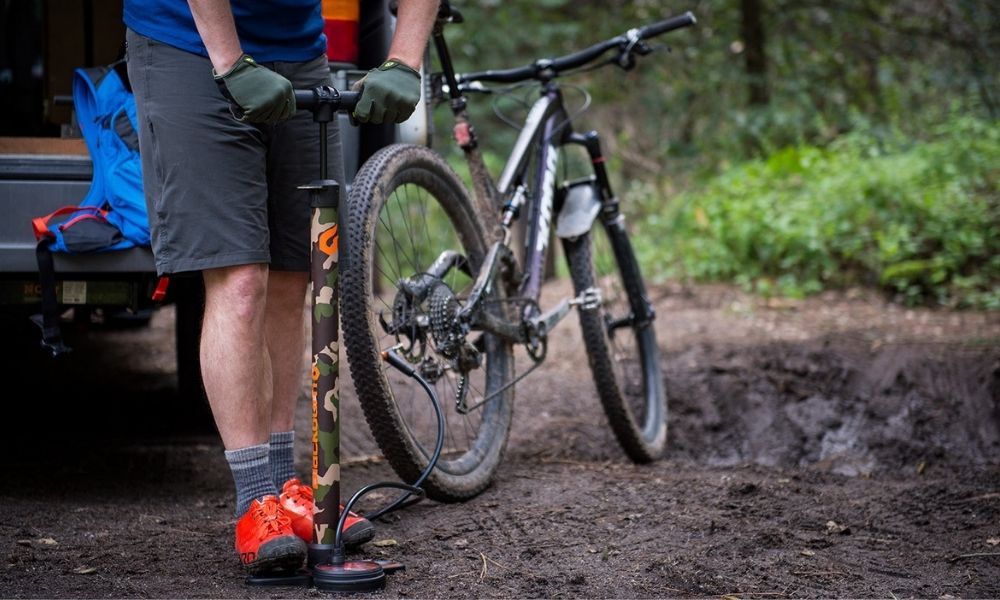 Also, Need to Know
All pumps are made for different purposes. Consequently, you must consider a few points while you are buying one mountain bike floor pump. We have noticed that many pumps have many different heads, which lock slightly differently to your valves.
Our experience says simpler is always a better choice with auto-select or universal heads being hit and miss.
There is also something to watch out for is high pressure versus high volume. A high-pressure pump provides smaller gusts of high-pressure air, appropriate for pumping narrower rubber up to maximum pressures. On the other side high volume pump does the opposite of high pressure; it provides a lot of air into a tire rapidly, which helps the mountain bike tires to make inflating and seating easier.
A high-pressure pump may take longer to inflate a fatter tire and a high-volume pump may need a lot more struggle to reach the high pressures. So it is better to choose one based on what you will be using it for.
While you are using your pump, a large base provides a very stable platform but it takes lots of room in your car boot that may be important if you transport your bike in the same place. On the other hand, a little base may create a wobblier pump but it can save some room.
Finally, after researching several pumps, we can conclude that the best pump is the one that provides you maximum comfort in any situation. In this article, we tried to explain the reviews of the best mountain bike tire pumps and hope this article will help you to take the right buying decision.